Tango
Join us this summer on the beautiful Reed College campus in Portland, Oregon, for the inaugural Reed Tango Music Institute, June 23 to 30, 2013.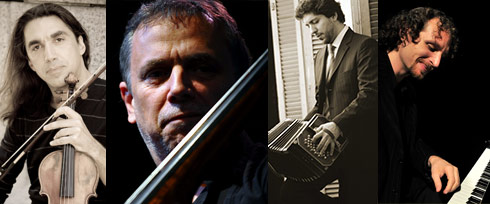 Like American jazz, Argentine tango music is one of the 20th century's most complex forms of popular music, with a large and varied repertoire, a rich vocabulary of styles, and a century's worth of subgenres and influences. Beginning this summer at Reed, proficient musicians on any instrument can discover the unique musical language of tango music by studying with some of the most accomplished tango musicians active today.
The 2013 Reed Tango Music Institute includes tango rehearsals and performance opportunities, group lessons and sectionals, specialty workshops on tango performance practice, lectures and discussions on tango music and history, jam sessions, film screenings, and more. Students will learn new material while in residence, and will have the opportunity to be coached on their existing tango repertoire in master class settings.
Morgan Luker, Reed music professor, ethnomusicologist, and leading scholar on contemporary tango music, will lead the 2013 institute in partnership with Pablo Aslan, world-renowned tango bassist and educator, as lead instructor.
No previous experience with tango is necessary, and classical and jazz musicians familiar with the work of Astor Piazzola are encouraged to register. The primary language of instruction is English. Space is limited to 50 participants. Registration begins February 13.
A final concert, scheduled for Saturday, June 29, will be open to the public.
Supported by the Reed College Department of Music.