Connect to Reed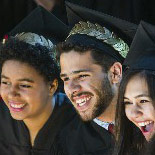 Prospective Reedies
Reed Magazine
Hunting for the classical roots of science fiction.
News
Civil Rights Leader Kathleen Saadat Inspired Reed's Class of 2015
NPR: Reed senior Chris Graulty talked about his thesis "Neuronal Dynamics of Grapheme-Color Synesthesia"
National Geographic: Features plant geneticist Pamela Ronald '82 on her solution to feed the world

Sallyportal: Professor of Political Science Darius Rejali was a guest on Philosophy Talk, "When Democracies Torture"
Portland Tribune: Professor of Environmental Studies Josh Howe featured in "Global Warming: Science vs. Politics"